In today's competitive environment, cosmeceutical manufacturers must not only produce high-quality products, but also produce them at a reasonable price.
Furthermore, this diversifying and expanding segment, which now includes male consumers, is highly dynamic because it must keep up with changing lifestyles and constantly develop new innovative products.
In such cases, cosmetics ERP software assists manufacturers in automating and streamlining business processes as well as with compliance.
A cosmetic software designed for the industry supports manufacturing requirements in product development, production, quality, costing, and compliance for both private label and those who manufacture their own range of products.
Personal Care and Cosmetics ERP Software Highlights
Here are some key features of personal care and cosmetics ERP software, namely: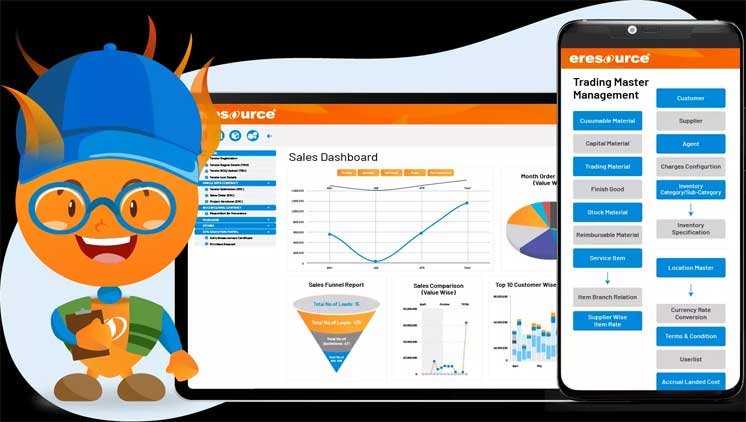 Management of New Product Development Sample Requests with Quotation Contract
Manufacturing and Loan Licensing Sales Kit Support
Pricing Options Encourage Promotional Offers Support
Lot Traceability in Both Directions
Shelf-Life/Expiration Date of an Instant Lot
Separate Formula and packaging costs
Formula Security and Administration
Revisions to the Formula Audit Trail QC/QA monitoring in accordance with cGMP standards
Production Scheduling and Planning (MPS, MRP, APS)
Multiple Packaging Options
GRN Monitoring
Batch Size Control
REACH and VOC Reporting
How can ERP aid the cosmetics manufacturing process?
The cosmetics industry is a dynamic and innovative one, requiring scientific precision and stringent quality control. Optimised production and streamlined processes in the manufacturing process can be critical to maximizing profits and growth. To accomplish this, an Enterprise Resource Planning (ERP) system can assist your cosmetics company in moving to the next level.
ERP for cosmetics is tailored to the needs of the cosmetic industry. This tool will streamline the manufacturing process by unifying diverse processes into an integrated management system, reducing time spent on laborious manual data entry or time-consuming paper-based processes. It can also help to ensure that good manufacturing practices are followed in order to aid in quality management and provide full traceability of processes from beginning to end.
Innovation drives efficiency.
An ERP helps cut out unnecessary or time-consuming administrative tasks that slow down the manufacturing process by combining disparate organizational systems into a streamlined whole. Many of these may be paper-based or duplicated across the business, so an ERP saves time and money by consolidating them into a single, easy-to-manage digital system.
Data that is visible in real time
One advantage of implementing a digitized ERP system is that data from the manufacturing process is visible throughout the organization. This means that various parts of the operation can collaborate to make faster decisions based on shared data.
Whether it's switching an ingredient for a more cost-effective alternative or reordering processes in the manufacturing system to reduce manufacturing time, an ERP can provide all the data you need to make the best decision for your company. Because this data is available in real time, your decision-making process can be responsive to any changes or problems that occur in the system.
lowering labor costs
One of the most significant costs in the manufacturing process is labor. However, studies have shown that an ERP system implemented correctly throughout the manufacturing process can often save up to 20% on labor costs.
An ERP will assist management in making the best use of available labor by streamlining production and making it easier to automate certain processes. The importance of using an ERP cannot be overstated as automation becomes more feasible as technology advances.
Complete traceability
Each manufactured batch can be recorded electronically using an ERP solution. This contributes to full traceability from the beginning of the process until the product is delivered.
This is important not only because it helps isolate and eliminate potential quality control issues, but it can also help meet British Retail Consortium standards for consumer products.
Efficiency in perishable inventory management
Cosmetics manufacturers can suffer significant losses if perishable ingredients are not managed effectively. Unnecessary waste can occur if use by dates are not properly managed. It is easily avoidable with the right planning and management tools in place.
ERP for cosmetics manufacturers can assist with this by implementing a 'first in, first out' policy for perishable materials, which means that the oldest products are used first in the manufacturing process. This reduces waste and allows manufacturers to spend less money on ingredients.
Conclusion
Because the manufacturing industry is highly dynamic and competitive, it is critical for such businesses to have an integrated solution that can improve efficiency, reduce costs, increase sales and profitability, and most importantly, enable the organization to make accurate, informed, and strategic decisions. An enterprise resource planning system, such as ERP for the manufacturing industry, could be the solution to all of these problems.