Accounting is a critical component of nearly every business, and it's critical to provide your team with the tools they need to manage your company's various financial aspects.
Payroll, accounts receivable, accounts payable, billing, and many other aspects are included. Accounting capabilities are built into many ERP systems, but this is not a guarantee.
With this in mind, this article has compiled the list below to assist you in locating the best accounting ERP system and capabilities for your business.
Because each system has different functionalities, specialization, price points, and industry focuses, the list is organized alphabetically.
Top 10 Best ERP Software for Accounting
Here are 10 best recommendation for ERP Software for Accounting, namely: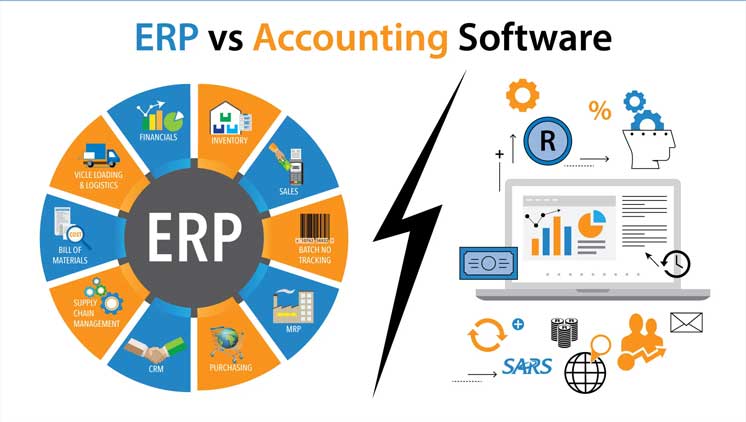 Accounting Seed
Accounting Seed offers a full accrual accounting and ERP platform powered by the Salesforce solution. The platform is intended to track financial data throughout the business lifecycle, from marketing and sales to project implementations and back-office accounting. Inventory management, order management, tax accounting, data security, automated billing, financial dashboards, reporting, no-code general ledger, payment management, and an intuitive user interface are some of the features. Accounting Seed also integrates with other industry-specific solutions to offer users a fully integrated, automated accounting solution.
AccountMate
AccountMate creates and sells customizable business accounting software through a global network of authorized solution providers. Customers can choose between two versions of the software, Enterprise and Enterprise Express, based on the size of their business. Accounts payable, accounts receivable, bank reconciliation, consolidated ledger, general ledger, inventory control, inventory specification, kitting, lot control, manufacturing, payroll, pricing control, purchase order, sales order, and system management are all included in both offerings.
Acumatica
Acumatica's Cloud ERP solution offers a suite of industry-specific solutions for businesses in distribution, retail, manufacturing, construction, service, and general business. Along with its ERP functionality, Acumatica provides a financial management solution to assist businesses in streamlining their financial efforts across an organization. Accounts payable, accounts receivable, currency management, intercompany accounting, payroll management, tax management, deferred revenue accounting, general ledger capabilities, and more are included in the company's real-time, end-to-end ERP solution.
Adeaca
Adeaca is a Project Business Automation (PBA) platform designed for project-driven industries such as engineering, construction, energy, industrial equipment manufacturing, AE&E, contracting, and others. The Project Accounting solution from the company gives users in those industries the tools they need to accurately recognize revenue and streamline month-end processes. Project budgeting, reporting tools, analytics, multiple revenue recognition principles, multi-entity support services, revenue labeling, and month-end support are among the features.
Deltek
Deltek provides ERP, professional services automation (PSA), business development, project management, information management, human capital management, and small business solutions to businesses in a variety of industries. An ERP system for CPA and accounting firms is among its industry-specific solutions. Users can benefit from this on-premises or cloud-based ERP solution by improving utilization, profitability, visibility, and financial planning.
Dolibarr
Dolibarr develops open-source ERP and CRM software for small-to-medium-sized businesses, larger organizations, freelancers, and foundations. Users can use the software to manage company invoices, contacts, products, orders, projects, stocks, surveys, and more. Companies can also select which features they want in their software and create a platform that is tailored to their specific requirements. Billing, payment, and invoice management are among its financial and accounting features, as are bank reconciliation solutions and a double-entry accounting module for analyzing ledgers and balances.
ERP Gold
ERP Gold offers a cloud-based, multichannel, full-stack ERP solution system to B2B and B2C companies across industries. Marketing, lead generation, customer relationship management, purchases, payroll, inventory management, order management, and accounting are all part of the system. Companies can track expenses, generate financial reports, pay bills remotely, segment financial data based on department or other factors, integrate their accounting tools with the rest of the ERP Gold suite, and integrate with a variety of third-party applications using ERP Gold's accounting software.
ERPNext
ERPNext is a DIY open-source ERP solution for businesses in education, healthcare, manufacturing, nonprofit, agriculture, services, and distribution. Human resources, payroll, sales, CRM, project management, content management, and accounting are among the features available on the platform. Its financial and accounting features include real-time accounting dashboards, multi-currency accounting, sales management, auto-invoices, and more.
Exact
Exact offers a suite of financial and business software solutions to startups, small businesses, manufacturers, wholesalers, service providers, and accountants. CRM, human resource management, financials, business management, and an ERP system tailored to manufacturing, wholesale distribution, and project management needs are all included in these products. Companies can use the Exact for Finance software to manage financial projects, e-invoice, financial dashboards, cash flow insights, risk management, business intelligence, and more.
FinacialForce
FinancialForce offers customer-centric ERP, Professional Services Automation (PSA), and Customer Success Operations solutions for the telecommunications, business services, health, digital communications, life sciences, and professional services industries. Its ERP Cloud solution includes accounting and financial management tools.
A "multi-everything" accounting engine, general ledger tools, fixed asset management, financial reporting, cash processing, automated accounts payable processes, cash management, and other features are included.
Conclusion
Through data integration, Enterprise Resource Planning (ERP) systems assist businesses in streamlining their accounting needs. It gives you a better view of all aspects of the business, allowing you to make faster and more accurate decisions that affect your company's operations.