ERP is a critical enterprise technology solution for finance, accounting, risk management, and a wide range of other industries.
Regardless of vertical, business size, or target audience, making ERP a core part of your business management strategy from the start is critical.
Construction companies, for example, must have a comprehensive view of their finances, maintain equipment, and manage processes across HR, back-office, and transportation departments.
Choosing the right vendor and solution can be a difficult process that necessitates extensive research and often involves more than just the solution and its technical capabilities.
To make your search a little easier, we've profiled the best construction ERP solutions and gathered them all in one place.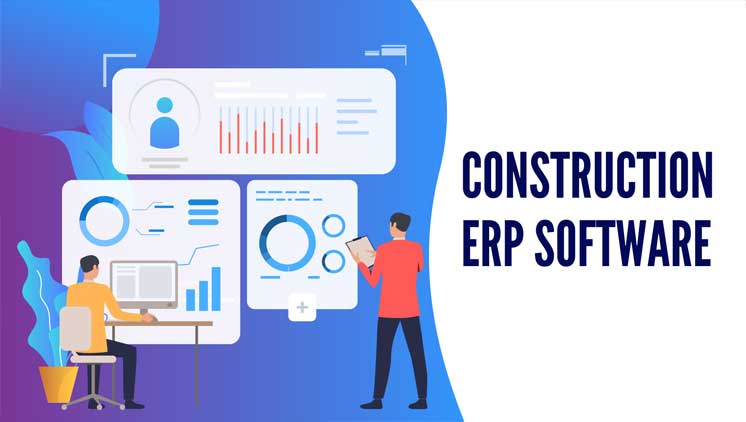 This is not a fixed list, and vendors may change as the market evolves. The list is arranged alphabetically.
8 Best Recommendation for ERP Software Construction
In this article, we will recommend you 8 best ERP software for construction, such as:
Acumatica
Acumatica, founded in 2008, provides cloud and browser-based business management software for small and mid-sized businesses. Acumatica's Residential & Commercial Construction Software offers users a simple cloud-based solution for keeping projects on track and driving growth by ensuring that managers, subcontractors, supervisors, and customers are all on the same page. Robust financial reporting, job cost accounting, integrated payroll functionalities, project billing, inventory management, business intelligence, and other features are available.
CMiC
CMiC provides a wide range of solid project management, construction, and ERP solutions. Companies can use CMiC's enterprise planning solution to automate back-office functions and streamline field operations with a suite of capabilities designed specifically for the construction industry. These capabilities include a variety of resource planning tools, such as interactive schedules, dynamic timelines, user-friendly interfaces, and real-time status updates, as well as financial forecasting, opportunity management, and other features to assist users in running their businesses.
Computer Guidance Corporation (CGC)
Computer Guidance Corporation (CGC) provides cloud-based construction ERP and management applications to commercial contractors in North America for projects in the industrial highway, HVAC, electrical, oil, mechanical, and other markets. The eCMS Cloud Construction ERP solution from the company includes a suite of apps to assist commercial contractors of all sizes in managing their finances and overall operations. Payroll management, reporting, accounting, project-wide communication tools, content management, and other features are available.
Epicor
Epicor Software Corporation develops industry-specific business software for organizations in manufacturing, distribution, retail, and services. Epicor Software, with over 45 years of experience, provides unique solutions for business processes and operational requirements in the cloud or on-premises. Along with its general ERP capabilities, which can be tailored to construction companies, Epicor also provides a Building Supply solution suite, which includes several products for a variety of use cases. LumberTrack, a lumber inventory management software, and BisTrack, an ERP software for building materials suppliers, distributors, and metal service centers, are examples of these.
IFS
IFS creates and delivers ERP software to customers all over the world who manufacture and distribute goods, manage assets, and manage service-oriented operations. IFS's products are designed to be user-friendly, flexible, and modular. CRM, SCM, PLM, EOI, enterprise asset management, and MRO capabilities are all included in the IFS Applications business software. Construction firms can use IFS as a project-based ERP system to control and determine schedules across functions, coordinate departments, and maintain goals through high-level visibility and transparency.
MarkSystem
MarkSystems, an ECI software solution, is home building management software that helps executives and managers track profitability and progress at every stage of a project. The fully integrated, user-friendly, cloud-based, and single-platform ERP solution includes accounting, scheduling, sales management, purchasing, cost estimating, built-in reporting tools, interactive site maps, a client design center, and more.
Oracle
Oracle is a cloud technology company that provides various computing infrastructure and software products to organizations all over the world in order to help them innovate, unlock new efficiencies, and improve efficiency. Companies can use the Oracle Smart Construction Platform to connect project teams, empower decision-makers, transform data into actionable insights, orchestrate resources for smooth project delivery, and synchronize operations across the supply chain.
Penta
PENTA's construction-oriented ERP software integrates advanced enterprise technology with decades of construction industry experience. Enterprise content management, construction accounting, payroll, records management, field data collection, project management, business intelligence, mobile software, daily analytics reporting, and equipment management are all included in the PENTA Construction Software suite. PENTA is ideal for commercial and industrial contractors in a variety of markets.
Conclusion
Construction companies work hard and take on large projects, which are often fraught with danger. As busy as we expect construction companies to be in 2021, process inefficiencies will become more difficult to ignore. People became more digitally focused as the need to work from home increased in 2020, and we're seeing that in the construction industry as well.
A construction company can go from having a process that takes a week or more to doing the same process with the click of a few buttons by updating their software. This allows invoices to be sent to clients more quickly, payments to be made to vendors more quickly, and everyone on both sides of the process to be satisfied. This can also benefit the subcontractor side of the business, allowing companies to keep their good people on board for future projects.