Only large organizations could previously afford to invest in enterprise resource planning systems. All of that has changed, thanks to ongoing innovation and improvement. In this article, I'll go over the top 10 ERP systems for small businesses on a budget. I'll show you how to get the most features for the least amount of money, allowing you to get the best functionality for your business needs.
Criteria for Comparing ERP Systems for Small Business
What factors should I consider when choosing the best ERP system for a small business? My evaluation criteria are summarized below:
User Interface (UI): Are complex ERP features presented in an easy-to-navigate format?
Usability: Many people in an organization will use an ERP system. Will the software be simple to learn for employees of all levels?
ERP systems must integrate with numerous other software suites. Are these integrations pre-existing?
Value for money: Is the price reasonable in relation to the ERP features provided? Is pricing for any small business clear, transparent, and adaptable?
Key Features of a Small Business ERP System
These are 10 key futures of a small business ERP System you should know:
Accounting: Aids in the simplification of financial reports and the management of resource allocation.
Human Resources: Allows businesses to administer HR business functions quickly and accurately.
Inventory Management: Monitors product supply information to ensure optimal stock levels.
Business intelligence is the analysis of relevant data to aid in decision making.
Manufacturing: Improves forecasting so that budgets can be properly allocated.
Supply Chain Management: Monitors the movement of goods throughout the supply chain.
Customer Relationship Management (CRM) is the management of interactions with prospects and customers.
Automation: Improves efficiency by simplifying repeatable business processes.
Analysis and reporting: Provides detailed data to aid in decision making.
Customer Support: ERPs can be complicated, so you may require additional assistance in getting them set up.
5 Best Recommendation of erp software for small business
Here's a brief description of each ERP software solution for small businesses on my list, along with screenshots to demonstrate some features.
GeniusERP
Genius ERP is a comprehensive enterprise resource planning system designed specifically for manufacturers and distributors. It's ideal for businesses that do make-to-order, engineer-to-order, custom-to-order, and assemble-to-order work.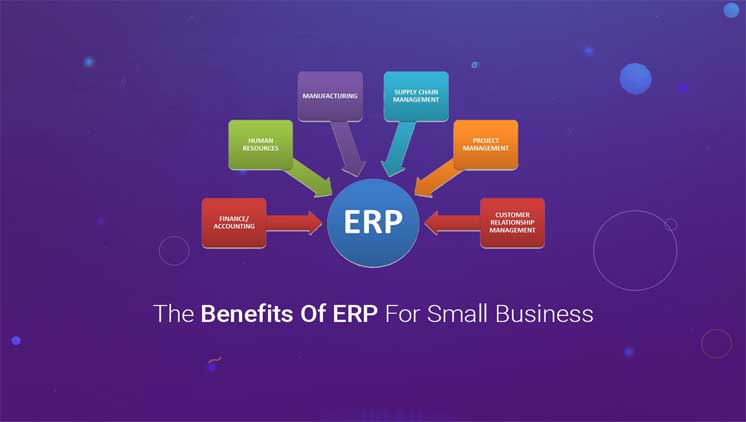 Accurate estimating, inventory control, order management, procurement planning, and accounts management are all notable features. Genius ERP simplifies complex manufacturing management with additional features such as product engineering and field service.
Genius ERP starts at $125 USD per user per month. There is no free trial available.
Click here for more information: https://www.geniuserp.com/?r=pmp-erpsfsm&dpm=9679
DELMIAWorks
The DELMIAWorks ERP system, which was designed specifically for manufacturers, is a natural fit for small to medium sized businesses (SMBs) and startups. Manufacturing and inventory control, sales, and financial management are all part of the core system.
The system is built to grow with your company. Without the need for third-party add-ons, additional shop floor and enterprise functions can be added.
DELMIAWorks ERP starts at $35 USD/user/month and includes a 15-day trial period.
Click here for more informatioan: https://www.solidworks.com/product/delmiaworks/manufacturing-erp/erp/small-business/?dpm=9692
SYSPRO ERP
SYSPRO is a mature platform that has grown into a full-fledged solution with a history dating back to 1978.
SYSPRO is an ERP solution designed to assist small to medium-sized businesses (SMBs) in manufacturing and distribution. Modular design system makes it simple to customize. As needed, additional features such as warehouse management and inventory control can be added.
SYSPRO starts at $199 USD per user per month. There is no free trial available.
Click here for more information: https://www.syspro.com/product/erp-system/?r=pmp-erpsfsm&dpm=9694
Dolibarr ERP CRM
Dolibarr is an open-source platform for small businesses, foundations, and freelance professionals that combines ERP and customer relationship management (CRM) software into a single solution.
The software is easy to set up and use. Start with the core system and then add industry-specific modules as needed. Dolibarr is highly regarded and offers exceptional value for money.
There is a free version, but paid plans begin at $9 USD/user/month. There is also a free trial available.
Click here for more information: https://www.dolibarr.org/?r=pmp-erpsfsm&dpm=9696
Versa Cloud ERP
Versa Cloud ERP is designed for small businesses that require advanced resource planning capabilities. The software assists them in monitoring, managing, reporting, and consolidating data across inventories, revenue, and reports.
This ERP, as a cloud-based solution, can be accessed from any location using desktop or mobile devices. It provides real-time financial and operational insights to managers, allowing them to make better decisions.
Versa Cloud ERP starts at $149 USD/user/month for three users. There is also a free basic version that is limited to one user. There is no free trial available.
Click here for more information: https://www.versaclouderp.com/?r=pmp-erpsfsm&dpm=9699
Conclusion
You should now have a good idea of the options available when looking for an ERP system for a small business.
If you need more information about erp software for small business, go check their website.